I found this quiz this morning via Carole. Like Carole, I'm not sure that the description fits. Coincidental thing is that I was poking around Brookline Booksmith on Friday and almost bought this book, which I've never read.
I also jotted down the following books as ones of interest for future reads -- Blue Angel, Love In The Time of Cholera, Ursula Under, Water for Elephants, Lost and Found, All the Pretty Horses, Intuition, Memory Keeper's Daughter, Revolutionary Road, On Beauty and Three Junes. (I'm currently reading The Whole World Over written by Julia Glass.)
This may be a sign!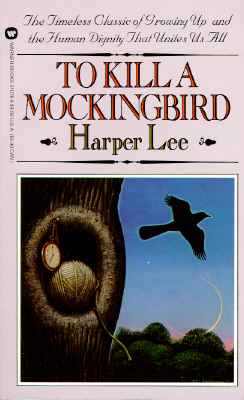 You're To Kill a Mockingbird!
by Harper Lee
Perceived as a revolutionary and groundbreaking person, you have changed the minds of many people. While questioning the authority around you, you've also taken a significant amount of flack. But you've had the admirable guts to persevere. There's a weird guy in the neighborhood using dubious means to protect you, but you're pretty sure it's worth it in the end. In the end, it remains unclear to you whether finches and mockingbirds get along in real life.
Take the Book Quiz at the Blue Pyramid.